Services
What our customers say
A great event thanks to Parkers Hog Roast! Thank you Arabella for looking after us on our latest team building day down in brightling sea where we all got thoroughly stuffed with hog. As ever the day went smoothly and everybody had a great time. The only down side was that the crackling was so good everybody wanted it and I missed out!!! So a delicious hog roast, enough food for everyone and a lot of satisfied people.
Steve
Services
---
Parkers Hog Roast covers all of Suffolk and the surrounding counties with our professional hog roast and BBQ business.

With our experienced qualified staff looking after your day you know it will be a great success and will provide many happy memories for your function.
You will find that our price includes your very own chef and assistant and is a better price than most of our competitors are able to do just for a machine and pig hire so it makes sense to use a professional chef!!
Parkers Hog Roast and BBQ's are based in Suffolk and use only locally grown free range or outdoor reared animals of the highest quality, after many successful functions we have yet to receive a single complaint and most of our work comes from referrals. Our staff have successfully delivered many prestigious catering events across East Anglia and are great organisers to in the run up to the day.
Our services for East Anglia cover weddings, garden parties, birthday parties all special occasions as well as corporate functions for business. In addition you will find Parkers at many village and countryside events and shows where top quality hog roast and BBQ food is on offer.
Private Functions – Hog Roast and BBQ's
We have a great track record for hog roast and BBQ events for private functions, this is a 'one stop shop' where we take care of everything and bring with us all that is needed for the perfect event. We will answer all your questions so you do not have to worry about anything related to the hog roast or BBQ itself and we will stay in close contact with you leading up to the event.
W are always reliable and on time , we have never been late for an event or cancelled a hog roast event due to reliability issues. We also have a comprehensive liability insurance to protect you as well.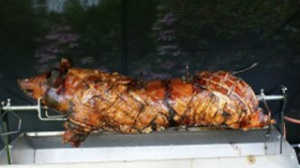 Successful Locations in East Anglia
We have attended functions in many towns and villages in East Anglia including – Chelmsford, Basildon, Colchester, Woodbridge, Bury st Edmunds, Ipswich, Aldeburgh plus villages such as Wivenhoe,Weeley, Debenham, Yaxley, Chevington.
We are always looking to add many more locations to our already long list so why not call us now on –07493529720